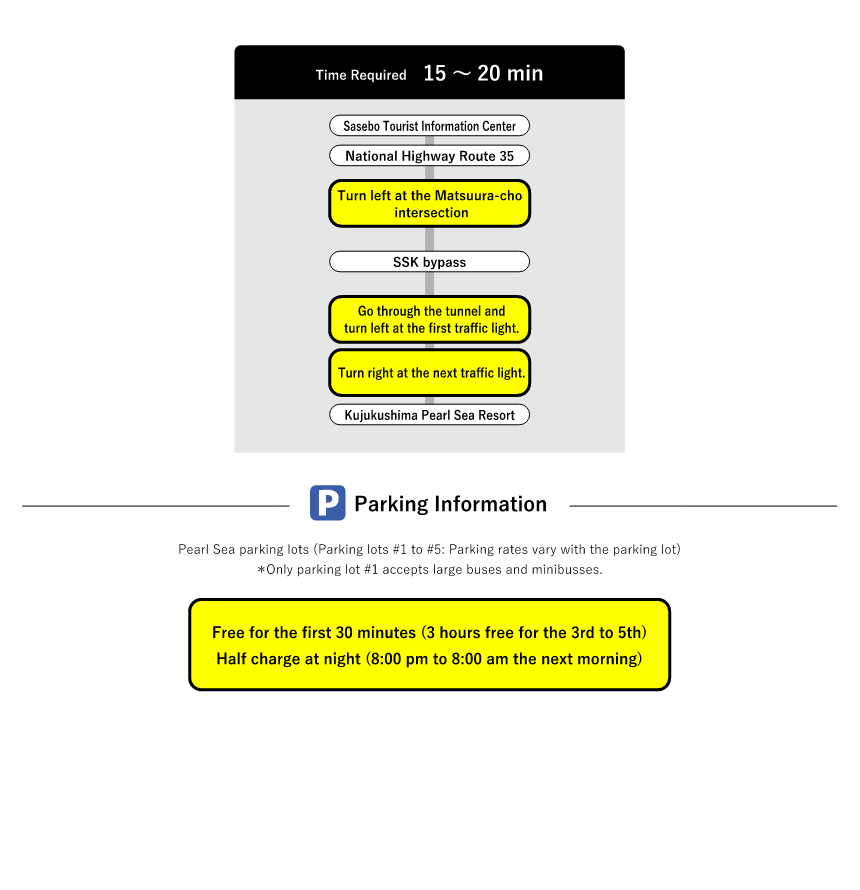 A new kind of natural resort themed on living
in harmony with nature.
This resort park serves as a gateway to Saikai National Park: Kujukushima. A good starting point for experiencing what Kujukushima has to offer. Activities include cruising the islands on a boat tour, yachting, kayaking, or just taking a stroll along the beach.
Inside the resort are Kujukushima Aquarium Umi-Kirara, shops, restaurants, and other facilities the whole family can enjoy.
Inquiries about facilities
Phone number

0956-28-4187

Price

Resort admission is free of charge.

"Pearl Queen" Kujukushima sightseeing boat
Adults (high school students and older) ¥1,500, Children (4-year-olds to junior high school students) ¥750
Does not include charges for other cruises

Kujukushima Aquarium Umi Kirara
Adults (high school students and older) ¥1,470, Children (4-year-olds to junior high school students) ¥730

Business hours

◆ "Pearl Queen" Kujukushima pleasure cruise
Boats depart at around 10:00 AM, 11:00 AM, 1:00 PM, 2:00 PM, and 3:00 PM

◆ "Mirai" Kujukushima pirate ship cruise
Boats depart at around 11:30 AM, 1:30 PM, and 2:30 PM
*Additional cruises possible depending on circumstances

◆ Kujukushima Aquarium Umi-Kirara
9:00 AM – 6:00 PM (March-October)
9:00 AM – 5:00 PM (November-February)
*Admission ends 30 minutes before closing